1. Happiness is a good stack of books. Thank you so much mom, dad, and Shannon!
2. It's Christmas Eve, so Happy Christmas (and I know I've mentioned this already). Spend some time with the people you love and make time for people you don't even know; give back a little.
3. I have a page that I want to bring to your attention. Some friends of mine started this website that involves a lot of outside help, so I thought that if I could send a few of you their way, that would really make their Christmas. Only do this if you're interested!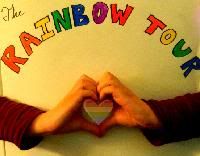 They're trying to support something they genuinely care about, so if you have something to add (a personal experience, a story, art, etc.) they would really appreciate if you sent them something! You can click right on the graphic above an you'll be taken to the page.
4. There will be one more review tonight... don't hate me!
That's all I wanted to tell you. I bet you're really tired of hearing from me, aren't you? I really don't have much of a life these days... I've squandered my two weeks on the computer, taking pictures, writing, and reading.
Be safe this weekend!
--Jude