It's Friday! Hurray!
Here is Follow-Friday's Question:
Do you have an under-noticed author that you think we should all know about?
I'm trying to think back... I can't remember very many Gabrielle Zevin reviews on the other blogs that I follow.
Maybe I'm wrong, but for now, she'll be my under-noticed author. She's one of my favorites! Her descriptions are lovely, her stories are woven from pure gold... I can't get enough of her books! I highly recommend them! My favorites have been
Elsewhere
and
Memoirs of a Teenage Amnesiac
(review shall be up pretty soon. It's fairly short).
Another person I can think of, though he's not really known as a writer as much as an actor, is Anthony Rapp. He wrote
Without You: A Memoir of Loss, Love, and the Musical RENT
. I am a huge fan of RENT and by extension, Anthony Rapp.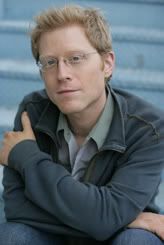 I learned so much about him and it was a very well-written memoir. I also highly recommend this one (there isn't a review up for this one. When I read it, I wasn't an active book-blogger).
The question for the Blog-Hop is as follows:
What is the thing you like most about reading book blogs? Is it the reviews, the author guest posts, articles, giveaways, or something else entirely?
I love reading the reviews that other people write! Not only does it help make my own reviews better than before, but it's also a handy way to add to my To Be Read pile. I tried to rely on Shelfari for new reads, and for a while, it worked out just swimmingly. But then I started seeing the same books being recommended, and by that time, I had either already read them or already resolved to read them. By reading the reviews of other people, I can get word of new books that I have never heard of before and find out how well they were rated and whether or not they were worth my time. It's really nice.
I like author interviews as well, but it's usually only if I'm familiar with the author that I really read their answers (as opposed to just skimming them).
Thanks for reading!
--Jude